Please tell us who will be checking in. Must be 25 or older.
* Required information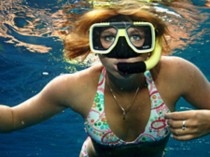 Five Hours Snorkel & Sailing Excursion
Back to information
Booking info
Island Experience Booking #: ISEXBON-WO1
Tour includes: Guided snorkel tours of Bonaire's most colorful reefs, snorkeling equipment including floatation jackets, free snorkel instruction, drinks (open bar), lunch and/or plenty of tempting sailor's snacks, and a hard-working and fun-loving professional crew.

What to bring: Sunscreen and towel
All sailors are asked to meet fifteen minutes before departure time at the Divi Flamingo Beach Resort and Casino. We sail with a minimum of 8 and a maximum of 25 persons.
Tour schedule
Departure days/time

: Sunday (9:00 - 2.00), Tuesday (9:00 - 2.00)

and Wednesday (10:00 - 3:00)